Make a Difference! Get Involved!



There are lots of ways to get involved with AAUW's work to advance gender equity. Together, we can make a difference in the lives of women and girls.
AAUW-OML Public Policy brings you
State Senator, Steve Glazer

Senator Glazer will speak at 10 AM
HERE IS THE ZOOM LINK FOR THIS MEETING
Elected to the California State Senate in a special election in 2015, Senator Steve Glazer won re-election to a full four-year term in 2016 and again in 2020.
Representing Senate District 7 based in Contra Costa and Alameda counties, Senator Glazer has consistently voted to support women's issues. He has a 100 percent lifetime record of voting with Planned Parenthood.
Education is a top priority for Senator Glazer, who has voted to provide higher education opportunities for more students by opening up thousands of new slots at the University of California and the California State University systems.
He also has consistently supported the needs of the vulnerable, voting to raise the minimum wage and to ensure financial support to infants born while their families are receiving CalWORKs grants
All questions for Mr Glazer must be submitted ahead of time or using the chat option during the zoom event.  Contact Laura Monin (lamonin@pacbell.net) to submit any questions.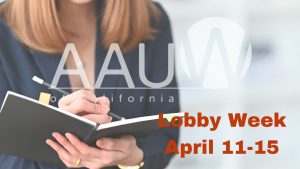 MEMBERS ONLY: If you are interested in participating in Lobby Week 2022, please complete a short survey (link below) no later than February 28th.   Please note: you MUST complete the survey in order to participate.  On April 7th, there will once again be a mandatory training webinar to explain how the meetings will be conducted and the details on the bills we are supporting.  You MUST attend the webinar in order to participate.  Please register for the webinar by visiting https://www.aauw-ca.org/lets-get-ready-to-rumble-everything-you-need-to-know-to-prepare-for-lobby-day/