Audio Book Exchange
Audio books are great for listening to when driving, walking or exercising. The audio book group will follow the format of the book exchange, only instead of exchanging a hard back book once a month we will be exchanging an audio book. We will be exchanging unabridged audio books in CD format. We will have signups at the fall brunch.
Book Exchange
Do you like reading best sellers, but don't like library waiting lists and time restrictions or bookstore prices? Then the Book Exchange is for you. To join, buy a hardcover book from the current year's best sellers list, either fiction or non-fiction. Your book will be rotated among the other Book Exchange members. You will receive a book on the first of each month and get your book back at the end of the year.
Bridge
For bridge playing and congenial company, choose Tuesday Night Bridge with other AAUW members. We meet the third Tuesday of every month.
Daytime Readers
We meet the second Monday of every month from 1pm to 3pm at a member's home. A reviewer starts the discussion.
| | | | |
| --- | --- | --- | --- |
| Date | Book Title & Author | Hostess – Name | Reviewer |
| Aug 13 | Killers of the Flower Moon                  by David Grann | Marielle Boortz | Marielle Boortz |
| Sept 10 | The Vanishing Velasquez                    by Laura Cumming | Stella Hadjimarkos | Margo James |
| Oct 8 | The Sex Lives of Cannibals                by J. Maarten Troost | Pat Kelly (starts at 1:30) | Perrin Krumbuegel |
| Nov 12 | The Sympathizer                                  by Viet Thanh Nguyen | Jane Young | Bat Barley |
| Dec 10 | City of Lights, City of Poison              by Holly Tucker | Pat Baran | Kathleen Schaub |
| Jan 14 | Educated: A Memoir                           by Tara Westover | Pat Barley | Jane Young |
Fourth Friday Flicks
Once a month, on the Fourth Friday of each month, members of this group will meet at a theater–location and time to be announced via email–to enjoy a movie picked by the Monthly Organizer.  This group will be very email dependent as last minute changes in location and time may frequently occur.  The Organizer will change monthly, rotating through members of the group.
Games Night

We meet the first Saturday of the month at 7:30pm. A variety of games (board, dice, cards, etc.) are made available by the hostess, or by members bringing their own favorites. A friend or spouse is also welcome to attend. No skill is needed, except for the desire to have a fun evening!
Lunch Bunch
This group meets on the first Tuesday of every month at 11:30 at a local restaurant for a casual lunch (separate checks) and conversations cover subjects from serious to humorous.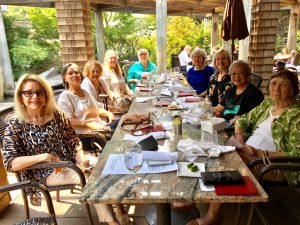 Mahjong
Twice a month, on the first Tuesday and the third Thursday, members gather to play Chinese mahjong, a game similar to gin rummy. Beginners can watch and learn until they feel comfortable enough to play.
Night Book Club
Every third Monday at 7:30 pm, members meet at a predetermined home, with refreshments. A review of the book of the month starts the discussion.
| | | | |
| --- | --- | --- | --- |
| Date | Book Title & Author | Hostess – Name | Reviewer |
| Aug 20 | To the Bright Edge of the World   by Eowyn Ivey | Karen Van Zino | Karen Van Zino |
| | | | |
| | | | |
| | | | |
| | | | |
| | | | |
| | | | |
| | | | |
| | | | |
| | | | |
| | | | |
| | | | |
Travel
The Travel Group meets several times during the year. We share our travel experiences with fellow AAUW members, their spouses, partners and friends by means of an organized presentation. This group enjoys learning about new places and cultures and loves to socialize with fellow travel enthusiasts. All are welcome to join us.
Walking & Hiking
Join your AAUW friends on a once-a-month hike at different locations in the East Bay. We meet at 9 a.m., usually on the 2nd Saturday of the month, at the Bollinger Park and Ride and car pool to the various exciting locations. Besides being in the healthy outdoors, we get to see lovely vistas and enjoy the company of old and new friends.
| | |
| --- | --- |
| July 14 | We'll meet at the Bollinger Park & Ride to carpool to Lafayette Reservoir for an easy 3-mile walk. Bring 4 quarters. |
| Aug 11 | As usual, we'll meet at the Bollinger Park & Ride to carpool to the Oakland Zoo ($14 for seniors). This will be a hilly walk, but slow-paced! |
| Sept | TBD |
| | |
| | |
| | |
| | |