AS A NOTE: NO GROUPS ARE MEETING IN PERSON. WHERE POSSIBLE, THE GATHERINGS ARE BEING HELD VIRTUALLY THROUGH ZOOM.
Audio Book Exchange
Audio books are great for listening to when driving, walking or exercising. The audio book group will follow the format of the book exchange, only instead of exchanging a hard back book once a month we will be exchanging an audio book. We will be exchanging unabridged audio books in CD format.
Book Exchange
Do you like reading best sellers, but don't like library waiting lists and time restrictions or bookstore prices? Then the Book Exchange is for you. To join, buy a hardcover book from the current year's best sellers list, either fiction or non-fiction. Your book will be rotated among the other Book Exchange members. You will receive a book on the first of each month and get your book back at the end of the year.
Bridge
For intermediate to advanced Bridge players.  They play the third Tuesday of every month at 7pm.
Daytime Readers
Participants take turns reviewing and leading lively discussions of books that include classics, best sellers, fiction, and non-fiction. They meet the second Monday of every month at 1pm.
| | | | |
| --- | --- | --- | --- |
| Date | Book Title & Author | Hostess – Name | Reviewer |
| Aug 10 | The Widows of Malabar Hill          by Sujata Massey | Zoom | Diana Griffiths |
| Sept 14 | The Body: A Guide for Occupant   by Bill Bryson | Zoom | Margo James |
| Oct | American Dirt by Jeanine Cummins | Zoom | Pat Barley |
| Nov | The Dutch House by Ann Patchett | Zoom | Arelene Addison |
| Dec | Kindred by Oceania E. Butler | Zoom | Kathleen Schaub |
| Jan | Pride and Prejudice by Jane Austen | Zoom | Margo James |
| Feb 8 | The Book Woman of Troublesome Creek by Kim MIchele Richarson | Zoom | Chris White |
| March 8 | The Vanishing Half by Brit Bennett | Zoom | Diane Griffiths |
| April 12 | Amity and Prosperity: One Family and the Fracturing of America by Eliza Griswold | Zoom | Kathy Senti |
| May 10 | The Snowman by Jo Nesbo | Zoom | Rebecca Said |
| June 14 | When Women Were Birds: Fifty-four Variations on Voice by Terry Tempest | Zoom | Marielle Boortz |
| July 12 | Murder in the Marais by Cara Black | Zoom | Nancy Vandell |
| Aug. 9 | The Evening and the Morning by Ken Follett | Zoom | Margo James |
| Sept 13 | Caste: The Origins of Our Discontents by Isabel Wilkerson | Zoom | Brodie Hilp |
| | | | |
Fourth Friday Flicks
On the fourth Friday of each month, members of this group will meet at a theater–location and time to be announced via email–to enjoy a movie picked by the monthly organizer.  This group will be very email dependent as last minute changes in location and time may frequently occur.  The organizer will change monthly, rotating through members of the group.
Game Night

A variety of games (board, dice, cards, etc.) are made available by the hostess, or by members bringing their own favorites. No skill is needed, except for the desire to have a fun evening! We meet the first Saturday of the month at 7:30pm.
Lunch Bunch
This group meets on the first Tuesday of every month at 12:30 at a local restaurant for a casual lunch (separate checks) and conversations cover subjects from serious to humorous.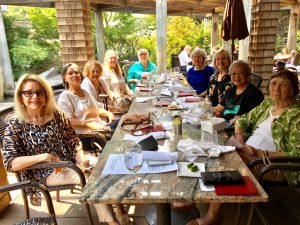 Mahjong
Twice a month, on the first Tuesday and the third Thursday, members gather to play Chinese mahjong, a game similar to gin rummy. Beginners can watch and learn until they feel comfortable enough to play.
Night Book Club
Participants take turns reviewing and leading lively discussions of books that include classics, best sellers, fiction, and non-fiction. They meet third every third Monday of the month at 7pm.
Date
Book Title & Author
Hostess – Name

 Reviewer
Sept 21
The Tubman Command                     by Elizabeth Cobbs
Zoom
 Chris Burchick
Oct 19
Potluck
Zoom
Nov 16
Feather Thief by Kirk Wallace
Zoom
 Chris White
Dec 21
The Giver of Stars by Jojo Moyes
Zoom
 Alice MIller
Jan 18
White Fragility: Why It's So
Hard for White People to Talk About Racism by Robin DeAngelo
Zoom
 Millie Kessler
Feb 15
The Overstory by Richard Powers
Zoom
 Arlene Addison
Mar 15
The Darkness, a Thriller by     Ragnar Jonasson
Zoom
 Terry Kalashian
Apr 19
Hidden Valley Road by             Robert Koker
Zoom
 Judy Bracken
May 17
When Breath Becomes Air by    Paul Kalanithi
Zoom
 Kathleen Schaub
June 21
The Midnight Library by Matt Haig
Zoom
Karen VanZino
July 19
The Satapur Moonstone by     Sujata Massey
Zoom
needed
Aug 16
This is Happiness by Niall Williams
Zoom
Chris Burchik
Sept 13*
Caste: The Origins of Our Discontent by Isabelle Wilkerson
Zoom
Brodie Hilp
*special date/time to coordinate with Daytime Reading Group
Travel
The Travel Group meets three Saturdays a year at 7:30pm. We share our travel experiences with fellow AAUW members, their spouses, partners and friends by means of an organized presentation. This group enjoys learning about new places and cultures and loves to socialize with fellow travel enthusiasts. All are welcome to join us.
Walking & Hiking
Join your AAUW friends on a once-a-month hike at different locations in the East Bay. We meet at 9 a.m., usually on the 2nd Saturday of the month, at the Bollinger Park and Ride and car pool to the various exciting locations. Besides being in the healthy outdoors, we get to see lovely vistas and enjoy the company of old and new friends.