End of Year Luncheon
Our end of year celebration was a huge success thanks to the help and support of many people. We enjoyed the company of 25 members and six scholarship recipients (past and current) plus guests. We acknowledged our leadership team, which serves the branch in many ways. We had the pleasure of meeting our newest member, Julie Plaisance, and we heard from Renaissance Scholar Michelle May, who shared a very touching, heartwarming message on the many ways AAUW has supported her. "Come Together" was a fun way to celebrate all our accomplishments during the past few months. Check out our June 2022 Newsletter for more photos.

March 2022



Join us for our March program. Email us at aauwsr@gmail.com for the Zoom details.

February 2022
Enjoy your dinner knowing you supported our Tech Trek program that will share STEM education to local middle school students.
CURBSIDE TAKE-OUT ONLY     AVAILABLE BETWEEN 4:30 – 8 PM
To place your order, go to www.giannissanramon.com or call 925-820-6969. For online orders, click the "order online" button, then click "pickup." Be sure to click on the appropriate date then choose your items and your desired time.
Join us for our February program. Email us at aauwsr@gmail.com for the Zoom details.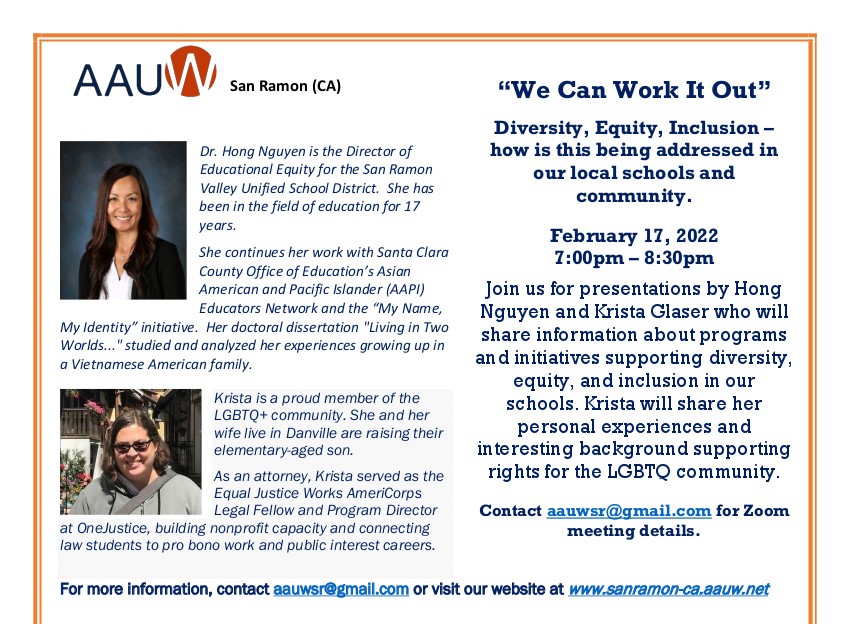 PAST PROGRAMS
Save the Date – take a day off from the kitchen
Members will receive an email with the Zoom details. Nonmembers may email us at aauwsr@gmail.com to register and receive the Zoom information.
Download Mountain Mike's flyer here
In the words of Susan Walker-Christensen, "I just wanted to thank you all for your part in helping with this event! What a success and so many "happy" people. It was a fun day!"
The grand total raised for our local scholarship fund from the shredding event was $2,034! That is more than double the amount raised in previous years.
AAUW San Ramon wishes to express our gratitude for the generous support of the community.
Order a pizza and join us for our March 11 program (info below). Present this flyer when picking up your pizza. Download here.
Phone orders: Say your order is to "support AAUW San Ramon Local Scholarship"
In-person orders: Show the flyer or coupon—either printed or saved on your phone
Online orders cannot be used to support this fundraiser
During the program, Dr Bradley Hyman, professor emeritus of University of California at Riverside, spoke to our group about the current Covid-19 vaccines. As you can see from the Power Point slide he covered a variety of topics which members found to be enormously interesting, and now we have a better understanding of how the vaccines work, how safe they are, and what to expect.
Place your orders by calling Gianni's directly at 925-820-6969 or by ordering online at Gianni's Italian Bistro
Valerie J. Keim, MFT will guide us through six mental health stress zappers that recharge our mood, calm our minds and relax our bodies in just one minute.   You will be able to use these zappers at home to start your day, feel more alive if you're stuck at the computer, or to get a good night's sleep.  She will also provide a unique opportunity to get a fresh personal perspective on 2020 and what it means, so we can truly move ahead into a new decade.
Come prepared to move, talk, laugh, and do some light journaling exercises.
Valerie is a Marriage and Family Therapist, a life coach, public speaker, conflict management facilitator, group and workshop leader, and author of mental health blogs and stress management materials. She has a lifelong interest in women's wellness and in promoting the unique mental, emotional, financial and spiritual strengths of women.  Valerie has a private practice in Pleasant Hill.
This program is coming to you via Zoom.
Members will receive an email with the Zoom link. You may find the handouts on the "Members Only" page.
Non-members interested in attending can email us at aauwsr@gmail.com by January 7th to receive the link.